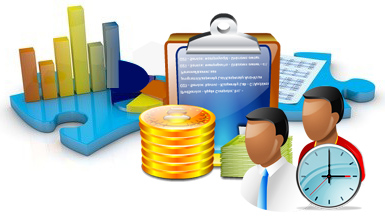 With the help of software you can have full control over accounting process of Company which includes sales/purchase records, customer-vendor details, stock information etc. Software enables you to compare business performance against previous years with the help of generated reports (stock report, sales-purchase report, production report). Software is designed to automate all major aspects of your Business and manage end-to-end business activities in organized manner.
Software Features
Effectively manage business accounting records of organization in real time with barcode support.
Easily keep track of entire accounting information such as customer-vendor record, stock/inventory details, tax information, voucher entries etc.
Provide option to view transaction records by item code, voucher number, date wise and amount wise.
Generate various reports of financial statement (Balance Sheet, Trial Balance), profit/loss, stock, sales-purchase, production etc to analyze total business performance.
Allows users to export the print reports in PDF or Excel file formats.
Allows users to provide security by zing and un zing records of specified date range.
Facilitates users to fetch data from other machines connected over LAN network.
Software with exclusive barcode settings helps to manage accounting details in fast and accurate way.
Facilitates users to take backup of lost data and restore at desired location.